Learning how to optimise your MySpace activity to not only showcase your music, but also build a community of fans and contacts is paramount to your online success.
With MySpace as your online home, fans will always know where to go to get the latest news about your band, find your gig schedules, browse photos & videos of you in action, as well as connecting with a whole bunch of other people who also like your music. Used correctly, you can communicate effectively with your fans and provide them the tools to spread the word about your music themselves, both on & offline.
There are lots of ways to use your MySpace profile to promote your music and communicate with your fans.
1. Subscribe to our Blog
Our blogs will keep you updated on all MySpace developments that will affect you, from explaining stuff that you may read in the papers to telling you about new site functions, to letting you know about the latest band competitions on the site.

2. Update Your Status Regularly
Keep your friends informed about what you're up to by updating your status & mood regularly. These updates will appear on your fans' homepages. It's best to update your status between 5pm & 9pm - the update will appear at the top of your fans' homepages when most people are online.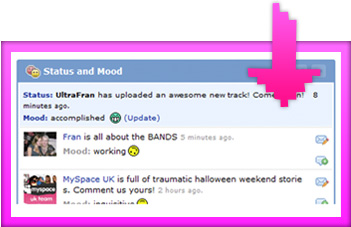 3. Photos
New photos will keep your fans interested in your profile: Add photos & slideshows to your profile; Update and change your default photo. Typically when new photos are posted, profile views increase.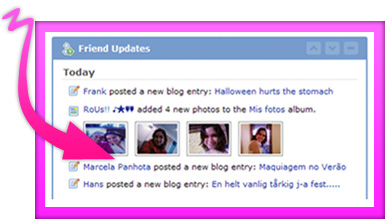 Photo Tagging: Encourage fans to take photos at your gigs then upload them to MySpace & tag you so that the pics will appear on your profile. You can also take photos with your fans & tag them, or run photo tagging competitions, for example, whichever fan uploads the best lookalike photo gets to dance onstage at your next gig.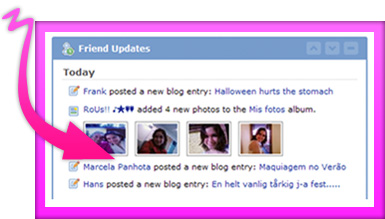 4. Blogs
Regular blog entries allow you to converse with your community and keep them up to date on any new developments and information. Weekly or monthly entries will help keep content on your profile fresh and interesting and engage your fans. This area can also be great for announcing special gigs or running an impromptu contest based around comments/posts within the blog area.
Some artists are well known for keeping themselves in the public eye by frequently posting blogs, for example, Lilly Allen.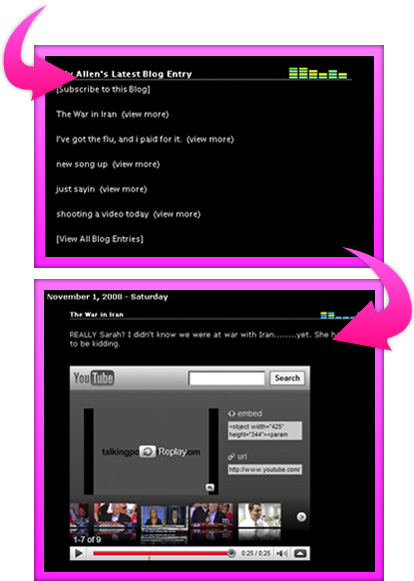 5. Videos
Get viral! Create and upload videos then include them in your profile. Users will be able to take & share these videos on their own profiles to show their support, which will in turn introduce your video to all of their friends.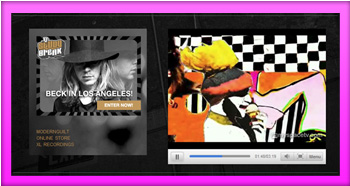 Studies show that around 50 seconds is the ideal length for a viral video, ie a video that spreads well on the internet.
6. Groups and Forums
The "Groups" area of MySpace allows you to connect with other users around a common interest. Join groups who support bands that are similar to your own, and send friend requests to those users. This will also increase your page's visibility amongst users who represent your potential fanbase.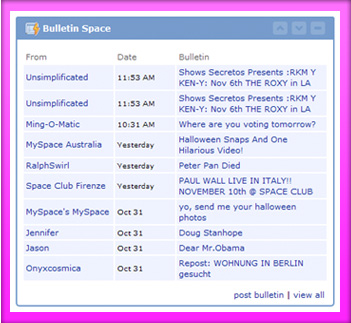 Participating in Forums means that your profile will appear when you post comments and people active within the discussion will be able to click-thru to your profile.
7. Events
Make sure that you keep your show information up to date, see here, AND create an event for all of your gigs so that your shows will appear in the event listing based on users' search criteria. Get to the MySpace Events page through the More menu on the nav bar.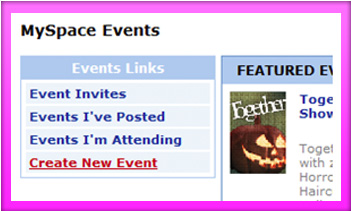 8. Bulletins
Post bulletins to share news, event info, updates, etc. Bulletins are similar to an email blast - they go to all of the friends in your profile and appear on your fans' homepages. Don't send more than one bulletin a day or they will quickly become spam to your fans & might even push them to delete you from their friends list.
9. Post to MySpace
If you have another band website, Post to MySpace is a great, easy way to spread the content on your website throughout MySpace by allowing your users to put your site's content onto their MySpace profiles with just one click.
Determine which content on your site you would like MySpace users to be able to post to their profiles (video, photos, news stories, etc.), and apply a short snippet of code that posts an icon next to that content.
Your online users click on the icon to post that content directly to their MySpace profiles.
Your content is spread virally on MySpace, increasing links back to your site. It's a great way to drive traffic back to your and also improve your organic search listing performance.
All the details are here: http://www.myspace.com/PostToMySpace
10. Improving Your Search Engine Ranking
The goal of SEO (Search Engine Optimisation) is to improve traffic from search engines. In a very competitive playing field, small changes to the code in websites and website templates can result in big improvements in site traffic, and therefore more people view your page & content. This means more traffic will be driven to your page and you'll receive more page views and increased exposure to your content. Click here to download a guide to SEO.